Proud to Be a Veteran-Owned Business
Guardian Garage Floors is North Carolina's premier provider of the highest quality polyaspartic floor coating systems. We are also proud to be a veteran-owned company. Owners Jon Schuetz and Stephen Andersen and their spouses all served in combat operations while serving this great nation as United States Marines. They are joined in business by another owner, Amber Saddler. Our business model follows the way we have modeled our lives: service to our country and service to our community.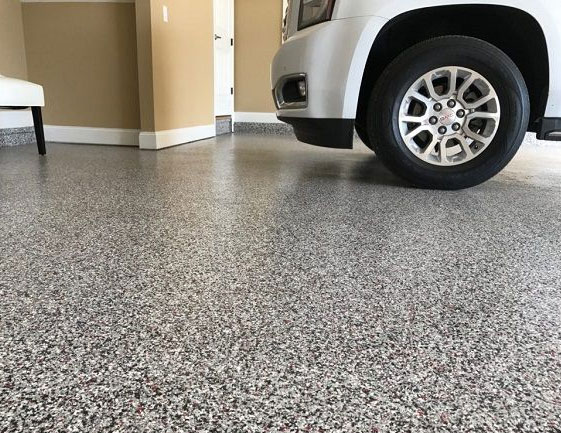 Committed to Customer Satisfaction
The Guardian Garage Floors philosophy of customer satisfaction is the result of many years of experience and dedication in the home improvement industry. Guardian Garage Floors is licensed, bonded, insured and an Accredited Member of the Better Business Bureau.
The Guardian Garage Floor System is the perfect alternative to epoxy garage floors and garage floor paint products. Unlike commercially available, out-of-the-box, epoxy-based floor coverings, Guardian Garage Floors utilizes only the highest quality materials. The flooring process involves a proprietary polyurea and polyaspartic material that is 20 times stronger and five times more resilient than epoxy.
Guardian garage floors are installed in one day by professionally trained technicians who have finalized hundreds of successful flooring projects across the Southeast. Installers complete every job using specialized diamond grinders and dust-minimizing industrial vacuum systems. Each site is thoroughly cleaned and inspected at project conclusion to ensure compliance with Guardian Garage Floors' strict quality assurance guidelines.
Affordable & Guaranteed
Guardian Garage Floors takes pride in being a cost-competitive company and maintains low overhead in order to provide clients with one-day garage floors at a reasonable cost. Customers can rest assured their Guardian Garage Floor will maintain its luster for life. Each floor comes complete with a transferable warranty that guarantees the coating will not peel or fail. The Guardian Garage Floor System has ultra-low volatile organic compounds (VOC), and it will not harm the environment.
While Guardian Garage Floor systems are the ultimate concrete floor coating, they have many applications outside of the garage. Guardian Garage Floors coatings have also been installed in industrial workspaces, school bathrooms and animal hospitals and shelters.